About Rollforming Machines
---
High -speed, dependable, and flexible
---
The Purlinmaster™ provides high quality, improved punching results, and is the best choice in rollforming machines for the U-Channel, Lipped Channel, Sigma Purlins, and Z-shaped profiles (CEE Purlin and ZEE Purlin).
Today's equipment and tooling offer a rapid change rollformer for allowing the operator to select a flange height change in minutes (not hours), and also a web width change in an infinite range from 4" up to 16".
Manufacturing
---
Our equipment is made to produce purlin in pre-painted, galvanized, and also hot rolled "black" steel; all with 55 KSI minimum yield strength quality.
Every line can be loaded with coil entry equipment, including uncoilers, as well as a wide range of hole punching systems (Samco Punch Anywhere™ Press System) for inline web and flange hole placement with high accuracy.
Rollformers come in both a 12 GA and a 10 GA model to cover the range of material types, as well as thicknesses, for any market. Even the automation of gapping the roll tooling for different thicknesses can be added so that your operator does not have to adjust the top shaft for material thickness changes.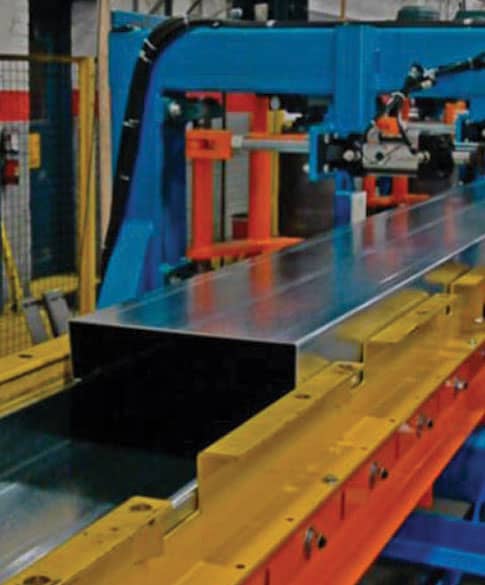 Advantages
---
The Purlinmaster™ rollforming machine features line speeds of 180 fpm, which enables it to roll high count lots of product quickly, and the lip of the cee and zee can change from 40 to 50 degrees, allowing flexibility for any customer's needs.
Machines can also be designed with asymmetrical flange lengths, which further enhances application flexibility.
Punch capacities available
---
5/8" round
1-1/4" round
11/16" round
5/8' x ¾ slots arranged horizontally or vertically
13/16" round
13/16" x 1-1/4" slots perpendicular to web centerline