Our Fabrication Solutions
---
Samco Machinery's Fabrication Division is a leading precision metal fabrication company with CWB and ISO 9001 certification. Our 164,000 square foot facility in Toronto, Ontario contains advanced technology and high-end equipment.
Services Capabilities
---
Samco Machinery provides a wide range of fabrication services, including product design, metal fabrication, structural welding, and assembly.
Our Capabilities
---
Samco Machinery's Fabrication Division: full fabrication service, ISO 9001 & Canadian Welding Bureau (CWB) certified. Samco offers a 164,000 square foot fabrication facility that offers advanced technology, high-end equipment, and a fully integrated Quality Management System with PPAP capability, Level 1-5.
Located in Toronto, our fabrication facility has 34-foot clear ceilings and oversized shipping doors, allowing for 9 full automated cranes, lift capacity up to 100,000 lbs.
Offering Engineering Solutions, Rapid Prototyping, and Manufacturing Services listed. Currently servicing Mining, Military, Automotive, Construction, Injection Molding, Press Manufacturing, and more.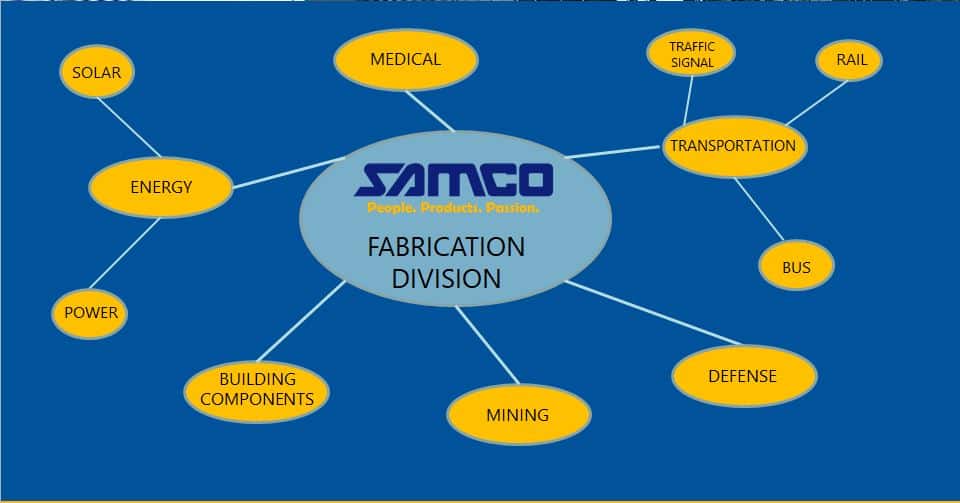 Metal Fabrication Design Specifications
---
Laser Cutting – Bystronic 6KW Fiber Laser, 160" x 80" Bed Size, Cutting MS: 1", SS:1", ALUM:1"
Forming – MAX 110T x 10'
Punching – AMADA COMA, AMADA PEGA, Includes Auto Index & Flange Tooling
Certified Structural Welding – CWB 47.1, Division 2 GMAW & FCAW & MCAW
Robotic Weld Cell for Production Quantities
Four (4) Full Welding bays
Four (4) CNC Mills – Capable of machining up to 20"x 50" from various materials from alum to hardened materials. Machine with a rotary head for machining round parts
Six (6) CNC Lathes – Capable of machining upto diameter of 18"
Three (3) Boring Mills
Two (2) Wire EDM Machines
Two (2) Automatic Surface Grinding Machines
One (1) Manual Surface Grinding Machine
Three (3) Conventional Milling Machines
Two (2) Horizontal Saws
One (1) Gravity Feed Band Saw – Saw Cutting Hydmech S20
Two (2) Conventional Lathe Machines
Two (2) Paint Booth